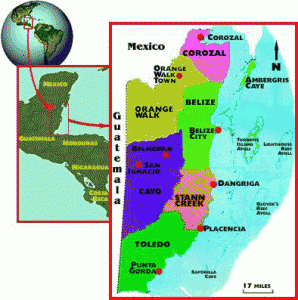 Belize is a small, subtropical Central American country at the bottom of the Yucatan Peninsula. The temperature usually stays between 80F and 90F (26-32C) which 85% humidity. Belize shares it's northern border with Mexico and south and western borders with Guatemala. Honduras can also be reached by way of a short trip across the Caribbean Sea. It's a whopping 180mi (290km) long and 68mi (110km) wide. Belize has a total area of 8867sq.mi. (22,923 square kilometers) plus around two hundred offshore Cayes (small islands). That puts it just a little smaller than Vermont or about 2/3rds the size of Vancouver Island. Belize has just over 300'000 people, with the main groups being: Maya, Creole, Garifuna and Spanish Speakers (people coming from various countries around Central and South America). You'll also find a healthy chunk of Taiwanese, Chinese, Pakistanis, Indians, Europeans, Canadians and Americans.
About San Ignacio Town
San Ignacio Town began as a logging camp in the late 1800s, since then it's grown up quite a bit. San Ignacio holds the title of Belize's second largest city and has a whopping 20'000 residents. You can find hotels that range from 15us to 4 stars with tennis courts. Many are located in the center of town,
San Ignacio Belize Hotels
can be even on the outskirts of town. Food goes from nice restaurants to street carts serving up tacos, tamales, and ganaches. Most things you may want or need can be bought here, so there is no need to try to bring ever toiletry or medicine you think you could ever possibly need.