If you are the type of person who looks for the road less traveled, you'll want to take the river. San Ignacio lies between two rivers, the Mopan and the Macal. On either of these two rivers, you'll see the occasional monkey, bats, birds, giant iguanas and any number of other exotic creatures. Essentially where there is water, there is life; and Belize has plenty of both.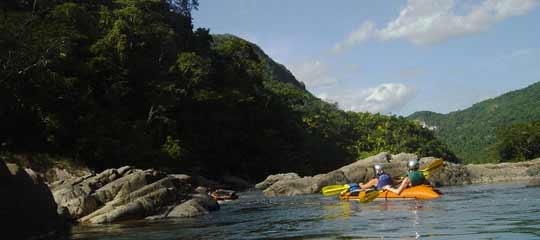 Pacz Tours uses 3 man canoes and sturdy, inflatable kayaks that are great for beginners and adventure seekers. The river guides are well trained in guiding and water rescue; they're also happy to show beginners the ropes. If you have never kayaked or canoed before, this surely is the place to start.
Pacz Tours offers both half day and full day tours.
Canoeing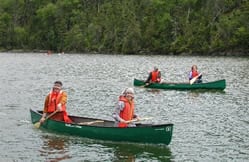 This tour is an excellent combination of sights and experiences. It all starts with a 20min drive out to Chaa Creek, one of San Ignacio's premier Eco-friendly resorts. At the resort you'll be taken through the Chaa Creek Butterfly Farm, where you'll get to see some of Belize's more rare and exotic butterflies. After the Butterfly farm, you'll travel down the medicinal trail, and learn about some of Belize's medicinal plants. Then it's off to the canoes.
It's a 15min walk from the visitor's center to the Macal River, where you get in. On the 2hr trip from Chaa Creek back into San Ignacio, you will pass through the habitat of a variety of birds, giant iguanas and other wildlife. Your final destination… the Hawksworth Bridge.
Tour Price:
$85US
includes: Taxes, Food, Guide. Entrance fees.
Departure:
9:00 a.m.- Approx 5pm
Meet infront of Pacz Office or pick up at hotel – in or around San Ignacio Town
Things to Bring
Swimwear, Cameras..
Let us know if your interested in going Kayaking or Canoeing with us, by using the form below.
For general questions or comments on any of the Belize Adventures Tour listed on our site, Click here to contact us.