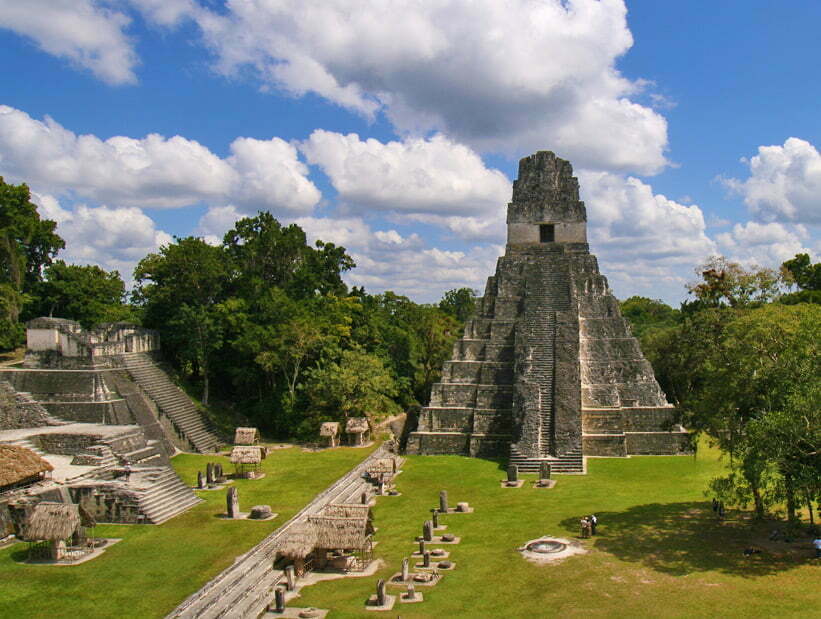 The single most talked about Mayan ruin in Central America is Tikal and it's a pretty short trip from Belize to Guatemala. Pacz Tours offers safe, all-inclusive, one or two day excursions to Tikal National Park as it is one of the top things to do in Belize.
Pacz Tours' Tikal Single Day Tour leaves at 7:30am and returns at 5pm. Your tour guide is with you the whole way to fill you in on the history of the area and answer questions. At the border, you will be assisted through all the stamping and fees by your guide. For the next three and a half hours, time will rewind a thousand years. You'll hear the howler monkeys echoing off the temples and the spider monkeys swinging tree to tree.
Tikal is host to toucans, coatimundi and a million other creatures great and small. Ruins will rise before you as they did in the days of antiquity like a stairway to heaven, as you follow in the footsteps of the ancients.
After you leave the park, there will be an opportunity to pick up memorabilia, then it's back to Belize. Your guide will be there once again to ensure a safe and speedy crossing from Guatemala back into Belize.
Tour Video of Tikal in Guatemala
Weather your staying in San Ignacio or Belize City you can do the tour of Tikal.
"Tikal Overnight Tour Is a Must-Do Trip.
I took a Tikal overnight tour with four girlfriends in early November and loved it! Hugo was our guide and he was truly amazing - his knowledge of the area and it's history is incredible. I cannot recommend Pacz Tours more, if you're looking for a safe, informative, locally operated guide company."